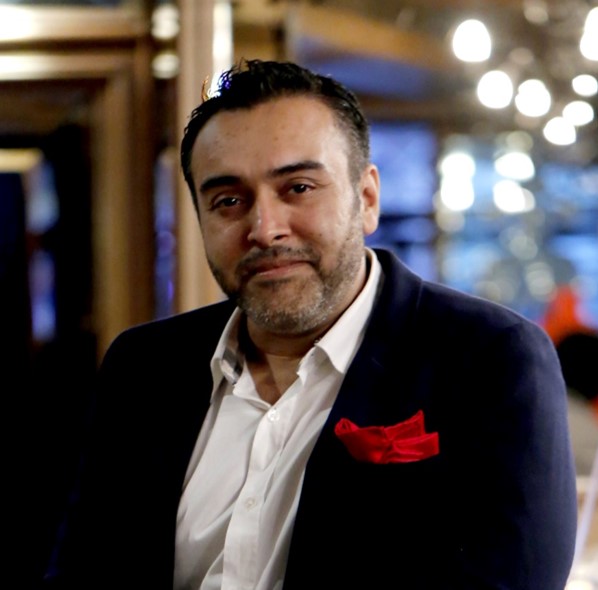 Founder & Managing Director
Massive Restaurants Pvt. Ltd.
Perfecting the science of molecular gastronomy with India's spice and flavour, Zorawar Kalra is a name that commands respect in the Indian hospitality industry. The face of Massive Restaurants, Mr. Kalra proudly tells the tale of a brand that majestically owns and operates trendsetting and critically acclaimed brands. Spearheading Massive Restaurants that includes Farzi Café, Masala Library by Jiggs Kalra, Made In Punjab, Pa Pa Ya , Younion, Bo Tai, Botai Switch, +94 Bombay and Swan under its wing, it has been an adrenaline-charged journey for him as he watches it grow exponentially. Owing to its success stories, the brand has raised INR 160 crores from Gaja Capital for the purpose of expansion. With strong foresight, he is a visionary who aims to launch properties in 10 new cities within this year. Spread over 11 outlets in India, Farzi Café has also to spread its wings to London, Riyadh, Muscat, Qatar and Kuwait and is going to open soon in Bahrain, Bangladesh, Puerto Rico, Istanbul, Japan, Hong Kong, Singapore, Rome and Canada in 2021. Masala Library by Jiggs Kalra has successfully launched its first international outlet in JW Marriott, Marquis Dubai. 
Extending to 4 outlets in the country, Pa Pa Ya sets the Asian notes right.  While Farzi Café and Masala Library by Jiggs Kalra have expanded internationally, others like BO TAI and Made in Punjab are in nascent stages of an international launch. With USA, UK, Canada and the Middle East on Kalra's radar for international expansions, it is safe to assume that Massive Restaurants is going the right way.
Counted amongst one of the youngest, most successful restaurateurs of India, he reinvents Indian cuisine with his strong business acumen and a rich heritage spanning over four decades. Considered as the 'Man with a Vision on a Mission' & 'The Prince of Indian Cuisine', he has been recognized amongst the 50 Most Influential Young Indians by GQ India (thrice); GQ Men of the Year – Restauranteur of 2017; Economic Times 40 Under 40; Forbes Tycoons of Tomorrow; Restaurateur of the Year Award, 2014 & 2017, Times of India & Vir Sanghvi Awards; a Finalist in E&Y Entrepreneur of the year 2017; HT Crystals, 2014 and Entrepreneur of the Year in Service Business – F & B Services, Entrepreneur India Awards, 2014. December 2012 was a milestone for him, as it saw the launch of Massive Restaurants Pvt. Ltd., which in its first year of operations won over 19 prestigious awards under various categories. Zorawar Kalra has also been a judge on Masterchef India Season 5.
Reviving Indian cuisine and now putting it on the global food map, he holds the recipe for success, delectable food and humility. With a Master's in Business Administration from Boston's Bentley Business University, his proclivity towards path-breaking edible creations hails from his genetic love for food. An entrepreneurial bent of mind and the new encyclopaedia for all things food, he has ostensibly studied the Indian food & beverage market, introducing some of the most genre-defining restaurant concepts India has ever seen.
With a plethora of commendable brands in his kitty, it comes as no surprise that Massive Restaurants is making its mark, the 'larger than life' way. Masala Library by Jiggs Kalra, the magnum opus of late Mr. Jiggs Kalra, present in Mumbai, is considered amongst the best restaurants in India, having won over fifteen prestigious awards within the first year of its launch in October 2013, while being appreciated by both diners and critics alike. Made in Punjab, the smart casual restaurant concept, serving traditional cuisine from the Punjab province, offers culinary masterpieces from the regions surrounding the Five Rivers. While the multi-award winning, critically acclaimed, revolutionary modern Indian bistro Farzi Café, best described as a gourmet experience, amalgamates traditional global cuisine, with Indian influences, contemporary presentations, culinary styles and an ambience with the aim to bring Indian cuisine, back "in-Vogue". With the launch of its modern pan-Asian bistro concept Pa Pa Ya, the brand aims to completely reinvent Asian cuisine on a global scale. Bo-Tai in Qutub, Delhi a contemporary Thai restaurant with a luxe setting and stunning cocktails, the brand pleases the palates of Thai cuisine aficionados. The brand has also launched its second outlet in JW Marriott, Bengaluru. YOUnion, the all-day bar, is Zorawar Kalra's homage to the millennials – or Generation Y. A revolutionary concept, YOUnion introduces many 'firsts' to the Indian marketplace, such as the country's largest menu dedicated entirely to shots; entirely customized barware; a delightfully carnival-like vibe that transports patrons from the moment they enter. Entirely youth-centric with a focus on fun and comfort, the space encourages guests to kick back and relax, while enjoying the vast variety of food and drink on offer. Recently launched +94 Bombay will take you through a journey of the diverse authentic regional cuisine that the city has to offer.
The brand brings Sri Lankan, Maharashtrian and regional cuisine all in one place. Along with the best of both worlds the brand also has a cocktail and juice bar. BO-TAI Switch is a premium dining space throughout the day that switches to a high energy eclectic bar post 11 PM. Bo Tai Switch offers a wide range of contemporary popular food and beverage experience. And Swan is one of a kind of restaurant and bar with an incredible outdoor space and a breath-taking terrace overlooking the beautiful Qutub Minar serving Delhi an exhilarating gourmet Italian and Japanese cuisine.
Mr Kalra spends his free time with his family including his two kids, playing golf and his deep love for computer games.