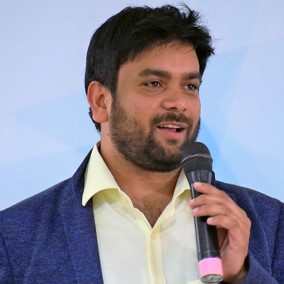 The Thickshake Factory & TTSF Cloud one
Yeshwanth Nag Mocherla, Co-Founder of The ThickShake Factory, one of the fastest growing QSR companies in the F&B Space is an engineer from JNTU and a post graduate from Xavier Institute of Management, Bhubaneswar & IESEG School of management, France.
A dynamic leader and an astute entrepreneur, Yeshwanth has over a decade experience in diverse sectors like Pharmaceuticals, Telecom, and Information Technology
Yeshwanth is seen as an industry leader in the F&B sector & have been a speaker at multiple forums including but not limited to: Women Economic Forum 2018, Food & Beverages Conclave & Expo, 2017, SME Growth Leadership Conclave, 2017, India Food Forum, 2018, T Hub, Hyderabad (India's biggest Start-up Business Incubator), Jagriti Yatra (World's longest train journey for entrepreneurship), Utkarsh Yatra  (Entrepreneurship journey) etc. to name a few. The driving force for him is to create more jobs & add value to the economy and also make a mark in the world through the brand.
Always open to new experiences, Yeshwanth looks at challenges as opportunities that fuel him to learn and explore frequently. He is an avid traveller and loves to explore new places.