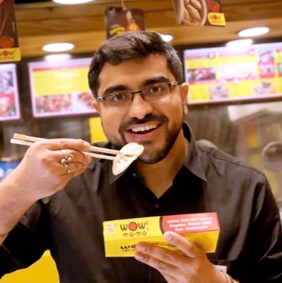 80 sq ft to Rs. 860 Cr of valuation – the Wow! story of Wow! Momo
Having done his schooling from St. James's School, Kolkata & Graduation from St. Xaviers Kolkata, Sagar Daryani & his college friend, Binod Homagai started Wow! Momo immediately after completion of 3rd Year Final Exams (Even before the results were Out) at the age of 21 in 2008 with an initial Investment of only Rs. 30,000.
Headquartered in Kolkata, today WOW! Momo is a chain of fast food restaurants specializing in different varieties of momos.
When Sagar Daryani and Binod Homagai, Age 21, both hailing from middle-class families thought of becoming entrepreneurs, the duo was still pursuing their graduation in B.Com Hons from St. Xavier's College Kolkata. With an initial amount of Rs. 30,000, Daryani and Homagai started the venture in 2008, even before their college results were out. They knew the value for money and boot-stapped to plough back profits and grow their venture. While Sagar looked after brand expansion, marketing and retail operations, Binod focused more on production and quality control. They were later joined by another college friend Shah Miftaur Rahman, who took care of cost control and Finance.
The early days were hard but keeping a track of the money flow was even harder. Believing in the concept of '1 rupee saved is 5 rupees earned', and the lessons they learned while assisting their parents in running the family business during school days, the founders grew the business by strict cost control mechanism. The initial stores were Kiosks inside hypermarkets of Big Bazaar and Spencer's in Kolkata, which paved a way opening Food outlets in Malls, Tech parks and subsequently restaurants in High Street busy commercial locations.
From small kiosks in Kolkata to Country's largest Chain of Momo Delicacies with more than 300+ outlets in 15 cities, they say rest is history! Not only did the founders ascertained steady growth for their business, but also innovated & invented unique ways of serving Momo delicacies to India. Their Menu caters to 12 different flavors of Momos available in Steamed, Fried & Pan Fried formats largely in white & brown flour variants. They have smartly Innovated & Invented to create Sizzler Momos, MoBurg (Momo Burgers), Tandoori Momos, & a Baked MomoAu'gratin to their credit. To top it all, even their dessert is a 'Chocolate Momo. This monsoon season, the brand also launched 'Mango Momos'.
 Wow Momo raised their first round of funding of Rs. 10 crores in 2015 from India Angel Network (IAN) lead by Mr. Sanjeev Bikhchandani (founder of Naukri.com) and Mr. Saurabh Shristava (Padma Shri winner) at a Rs. 100 crore valuation. They doubled their investors' money in 18 months and provided them a partial exit at an IRR of 50 % in the subsequent round of equity funding at a Rs. 230 Crore valuation (May 2017). The new investors – Lighthouse Funds, lead by their partner, Mr. Sachin Bhartia have backed the promoters in the last round. Mr. William Bissell (Owner – FAB India) has recently joined the Advisory Board of the company with a small equity Investment of 3 crores at a 300 Cr valuation. The second round was closed in October this year; with valuation of nearly 860 Crores by Tiger global.
Sagar & his team have literally "played with momos" & now their menu caters to 15 different flavours of momos available in Steamed, Fried & Pan fried variants. They have smartly Innovated & Invented to create Sizzler Momos, Momo Burgers, Tandoori momos, Butter Masala Momo to name a few. Even their dessert is a 'Chocolate momo. Currently Wow! Momo produces over 2 Lac pieces of momos per day.
Sagar is an enthusiast who is highly passionate about brand building. He dreams of an India where employment is 100%. The company currently employs over 1800 staff of which about 100 are especially able or from various NGOs which the company has partnered with.  Under his leadership Wow! Momo has earned many awards & accolades including National Entrepreneurship Award 2016 from Ministry of Skills Development and Entrepreneurship, Govt of India , The Images Most Admired Indian origin Quick Service Restaurant chain of the year 2018 & The Economic Times 40 Under Forty – India's hottest business leader 2019.
 After successfully building the Wow! Momo brand, Binod and team are now looking to strengthen its second brand, Wow! China, launched earlier this year aims at focusing on "Chindian" cuisine, the Indianised version of Chinese cuisine that is popular in India. Wow! China intends to do with Chinese food what Wow! Momo did with momos, i.e., give the road-side cuisine the look and feel of a brand, while heightening the eating experience of Indian food-lovers on the back of their culinary innovations and standardisation of services, the company said in a statement. The vision is to create a national brand that operates across the country and brings QSR experience to India's favorite "Eat-Out Chinese" food!
The company currently employs over 2800 staff of which about 60 are specially able or from various NGOs which the company has partnered with. The promoters have a long-term vision of opening 5 cancer hospitals fully funded from this venture to assist patients who cannot afford a treatment.
In simpler words Sagar states the purpose of the brand; "We want maximum people to have maximim happiness by serving them great hygienic and tasteful delicacies maximum number of times".
The brand continues to focus on increasing and enhancing its customer base and service respectively and has a goal of doing an IPO (Initial Public Offering) by around six to seven years from now with a presence in over 50 cities in India. And surely look at Global journey very soon.
The Wow! story has just begun.