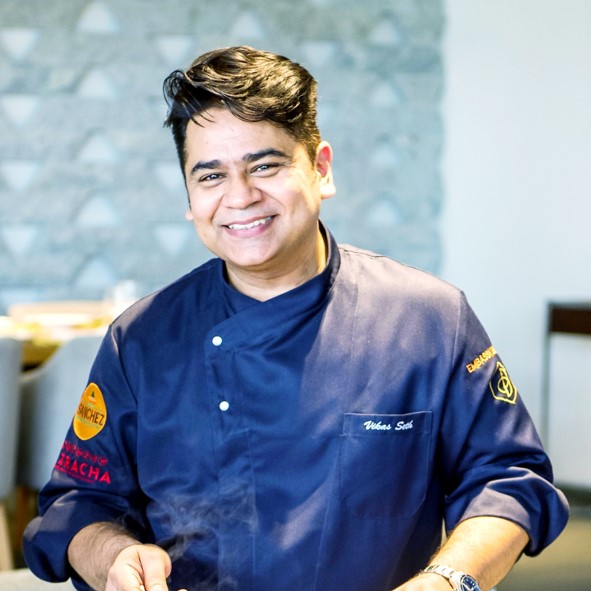 Embassy Leisure and Entertainment Projects LLP (Embassy Group)
Born in the culinary rich bylanes of Amritsar into a family of foodies, Chef Vikas Seth is a well–travelled chef with an in-depth understanding of culinary concepts and a strong passion for innovation. IHM Mumbai alumnus, he comes with over two decades of work experience, in which he has travelled across some of the best culinary capitals of the world, and has been instrumental in creating some of the best restaurants in the country.
The Culinary Director at Embassy Leisure and Entertainment Projects LLP (Embassy Group), Chef Seth has been the brains behind the multi-award winning restaurants Sanchez Restaurante & Cantina, Sanchez Taquería & Cantina, Sriracha – Contemporary Pan-Asian Dining, Sriracha Robata – Contemporary Pan-Asian Dining, HopsHaus – Botanical Brewery + Kitchen, F&B outlets @ BLVD Club – Embassy Boulevard, Eden Café at Embassy Springs, Hakka-Chow and Garam-Masala at Embassy Tech Village & Embassy Golf Link amongst others. 
Among the few who can marry his culinary legacy with modern science, Chef Seth is blessed with the acumen of culinary innovation and the palate of a well-eaten gourmand – few virtues that Chef Seth honed and enhanced during his stint at the Culinary Institute of America. 
A truly multi-faceted chef and member of the prestigious International association of gastronomy 'Chaîne des Rôtisseurs' as 'Maître Rôtisseur' Bailliage National de L'Inde, Bailliage Régional de Bangalore, he has authored books for private circulation "The Modern Indian Odyssey" and a unique twin cover brand book 'Sanchez & Sriracha'.
Considered to be India's best Mexican chef by peers and diners alike, Chef Seth has been listed in the 'Top Food Entrepreneurs' book by Restaurant India 2018, he is the winner of Upper Crust Food and Wine Celebrity Chef Competition. Chef Seth also has a YouTube video playlist dedicated to him under the title 'Mexican Fiesta'. Chef Seth was one of the Super Chefs on the Sony TV telecast Cooking Reality Show – 'Sanjeev Kapoor Ke Kitchen Khiladi' and has featured in 'Sixty Years Sixty Chefs' Book where the Top 60 Talented Chefs in Sixty Years from IHM Mumbai has been listed.