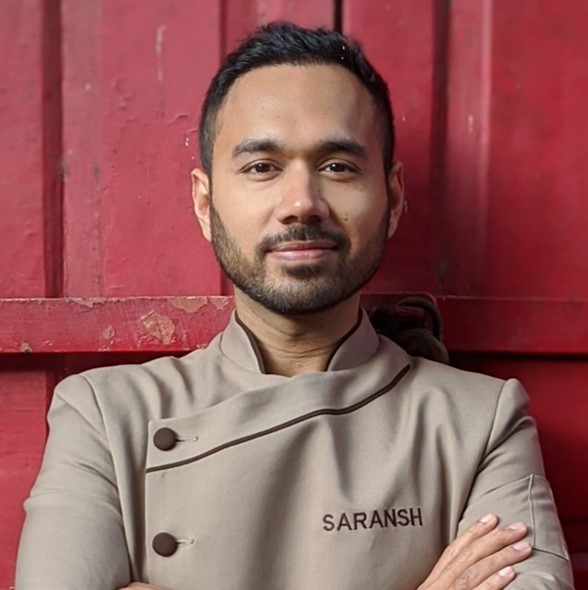 His Culinary Journey: Saransh Goila is a young and dynamic celebrity chef who has become most famous with his "Goila Butter Chicken" featuring MasterChef Australia. He was also a judge on the show. 
TV and social media: Saransh is the youngest celebrity chef on TV. Part of Forbes' prestigious Celebrity 100 of 2019, Saransh was recognized as the youngest Celebrity Chef in the list of Top 10 Chefs in India. He is well known for having hosted India's biggest TV Travelogue- Roti, Rasta aur India and was the first Indian Chef to take his famous dish "Goila Butter Chicken" on the most watched cooking show, MasterChef Australia where he also featured as a guest judge. This led to Saransh founding of a series of restaurants which serve this famous dish. The very popular FoodFood TV channel named him "Healthy Chef of the Year".  Saransh is very active on social media and has a large following with high engagement. His hashtag #Sadakchef popularizes street food of India and is much followed. So much so, that Saransh was recognized amongst India's 100 Future Tycoons by Facebook last year. 
Author: Saransh's book "India on my Platter" is a food travelogue that encompasses his experience of discovering the nuances of local cuisine across the country. From rural villages and barren deserts to freezing mountains, he unveils the flavours of his destination by meeting locals, villagers or erstwhile royalty, while picking up a tip or two to use in his kitchen. Saransh was awarded by the Indian Hospitality Congress and Limca Book of Records for being the first Indian Chef to travel 20,000 kms by road in 100 days.  
Fitness: Passionate about fitness and travel, his hashtag- #RunToEat translated into a 5-part web series that captures his obsessions of running and eating across various cities/countries of the world. Saransh is also an active marathoner. 
#MorningsWithGoila: During the nationwide lockdown phase, Chef Saransh was the first celebrity chef to initiate an activity from home called #MorningsWithGoila. Every morning, he went live from his Instagram handle @saranshgoila with his celebrity friends from all walks of life – chefs, musicians, actors, comedians, nutritionists and more. The very engaging Instagram live sessions drew a host of celebrity names like Chef Sanjeev Kapoor, Chef Ranveer Brar, Malaika Arora among others. With 31 engaging episodes of #MorningsWithGoila Saransh curated 20 recipes, entertaining audiences with conversations with his guests about their childhood food stories and also tips staying safe at home during this season. The idea behind this very successful initiative was to reach out to the community and spread joy amidst all the stress-inducing news. #MorningswithGoila was immensely successful and spawned a number of similar shows by other celebrities as well.
YouTube Streamathon: In a testament to Saransh's immense popularity, he was invited to be on YouTube's live streaming show called the One Nation. OML and YouTube came together to raise funds to alleviate the distress caused due to Covid 19. One Nation was an 11.5 hours long show, during which Chef Saransh cooked a special Gujarati dish with mangoes called 'Fajeto'. One Nation continued to stream on the YouTube platform for a month with the intention to entertain and encourage people to support each other during uncertain times like this.
Netflix: Saransh Goila's foray into the world's most popular streaming platform Netflix was a collaboration on their popular show called 'Menu Please'. Continuing a dynamic stream of content and now extending his presence on Netflix, Saransh took up a commendable and entertaining challenge to teach the host how to cook three meals (Breakfast-Lunch-Dinner) in an incredible span of just 20 minutes, all over a video call. Watch now!