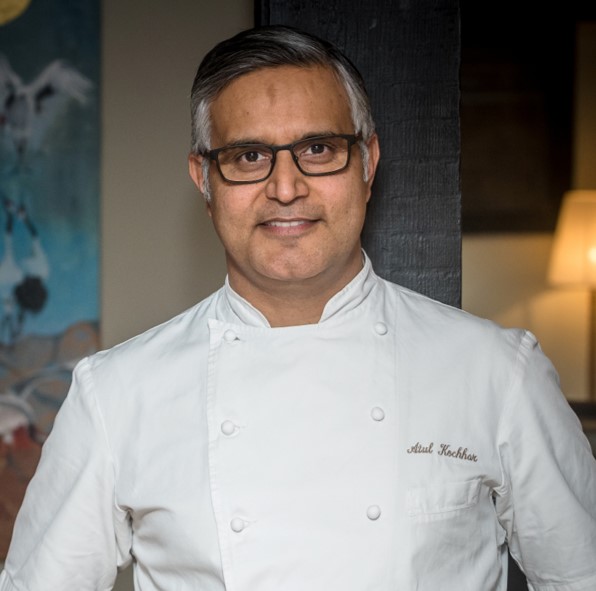 2 Time Michelin Starred Chef, Restaurateur & Entrepreneur
Atul Kochhar's unique talent as a twice Michelin starred chef has changed the way people perceive and experience Indian cuisine. Taking inspiration from his native India, while continuously researching regional dishes, Atul has managed to combine his heritage with his love of British ingredients to create a unique and innovative modern Indian cuisine.
Since 1994, he has been at the forefront of Indian cuisine, achieving his first Michelin star in 2001. His contemporary style and love of traditional cooking techniques led him to open his own restaurant, Benares, which won him a Michelin star in 2007. Since then he has opened numerous successful award-winning restaurants including: Sindhu in Marlow; Hawkyns in Amersham and Indian Essence in Kent. In 2018 Atul left Benares to pursue other independent ventures and welcomed the newest edition to his portfolio Kanishka, Mayfair, London in March 2019 & in July 2020, Atul debuted a second Marlow venue, Vaasu. Chef Atul is currently chef partner in newly opened restaurant in Gurgaon, India: SAGA: Cuisines Of India with Food & Beverage Entrepreneur Vishal Anand.
Having recipes featured in international publications and regular appearances on Amazon and television, including most recently BBC2's Million Pound Menu, Atul has also written a number of successful cookbooks; Simple Indian; Fish, Indian Style; Curries of the World; 30 Minute Curries. His work ethic and talent have not gone unnoticed as he has had the privilege to cook for Prince Charles at St James's Palace, as well as having been personally invited to meet HM The Queen during one of the President of India's official visit.
Dedicating time outside of the kitchen to philanthropic endeavours, Atul has worked with The Prince's Trust and stands as an ambassador to The British Asian Trust to support high impact charities in South Asia and the UK. Atul is currently raising money for Great Ormond Street Hospital and in January 2019 he embarked on his second voyage to Antarctica for this fabulous charity, close to his heart.
When not busy with one of his various restaurants or projects, Atul enjoys spending time at home in London with his wife Deepti and their two children. Continuing to thrive, the next few years look full of exciting new projects for Atul and his team.